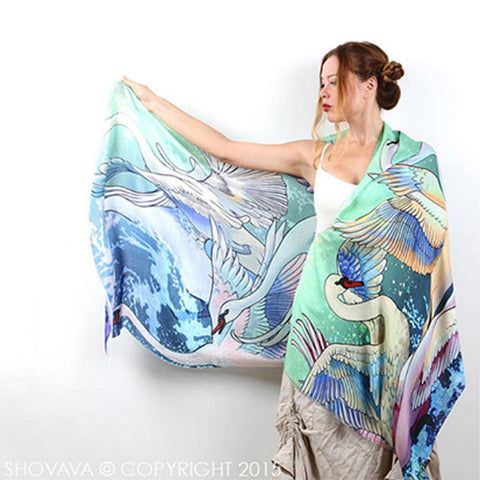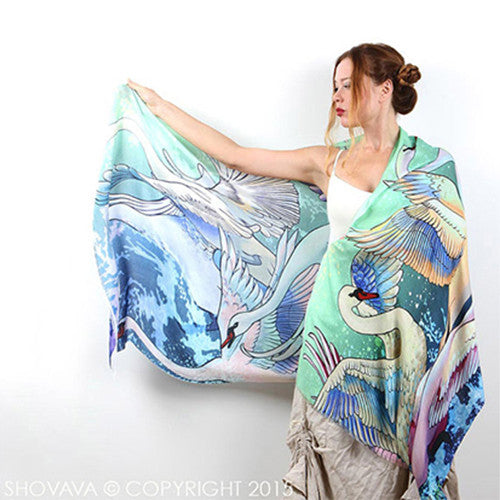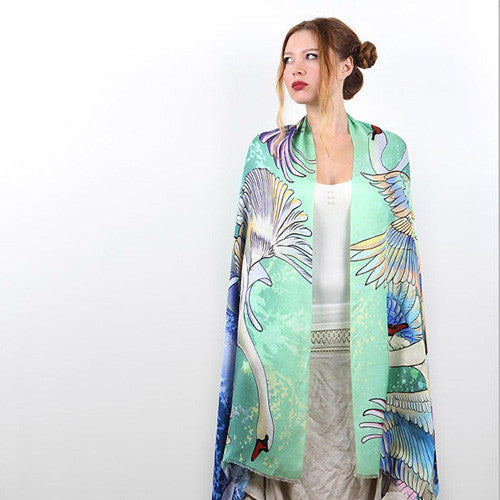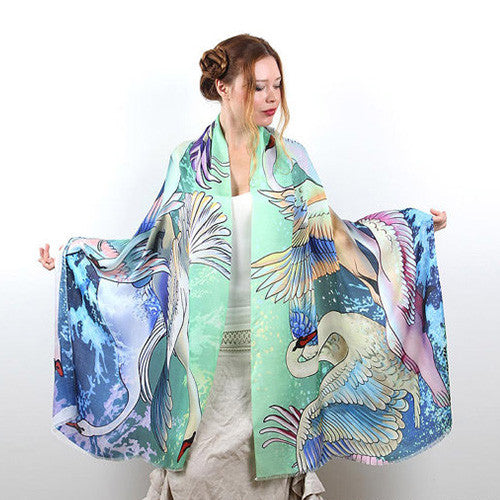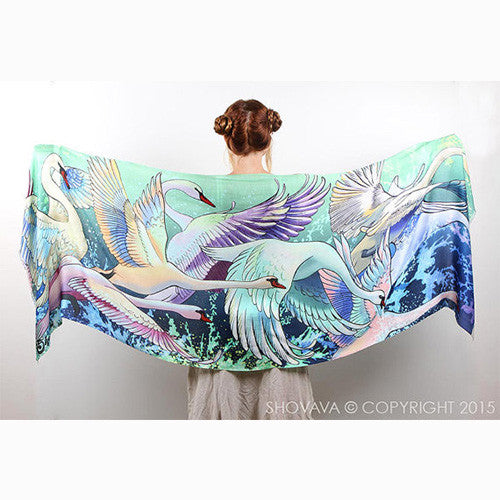 Fair Swans Scarf
Shovava
P3,000.00
This wings and bird feathers shawl scarf features hand-painted and digitally printed Art of Wide – Spread Wings. This highly detailed representation of Nature, Freedom and Beauty.
Truly versatile, it looks great paired with any outfit, with so many ways to wear! You can use it as a classic scarf or shawl, tube top, halter top, bandana, turban or even wrap skirt.
These are fashion scarves, and not meant to keep you warm (with exception of the Cashmere version).
FABRIC OPTIONS
100% Cotton: Print on one side, while the other side is slightly lighter. Sheer matte light material that breathes and drapes well. Has a slightly cream tinge to it.
Silk Cotton: Shown in photos. Silky, fine super soft texture that flows beautifully. With print on one side, the other side is slightly lighter. Flows beautifully with a slight sheen. True white.
Silk Cashmere: 20% silk and 80% (120 count) cashmere. Print on one side, the other side is slightly lighter.
Silk: Super soft, slightly shiny, luxurious and bright.
Cashmere (100% Cashmere, 140 count): Warmer version. Print shows through on both sides. Matte. Gorgeous any way you turn it or wrap it. The play of patterns is simply mesmerizing.
COLOR
Actual colors may vary across products of the same category as each shawl/scarf is hand-painted on digital printed artworks.
Product may vary slightly from photograph and products due to lighting.
MEASUREMENTS
Laid flat, the finished shawl/scarf measures approximately: 200 cm x 70 ( 78″ x 27″). For added reference, the model shown in photo 5'4" in height.
FINISH
Neat edges, two shortest edges have Fray (but will not keep fraying), which gives the scarf a bohemian touch.
CARE
Made from delicate and soft material, please treat it accordingly. Hand wash only. Immerse the garment and gently rinse. Never rub or soak. Lay flat to dry in shade. The gentler you are, longer it will look great. Do not wet (as in rain) until it has gone through first wash.
ALL ARTWORK IS SHOVAVA COPYRIGHT AND IS COPYRIGHT PROTECTED

Related products